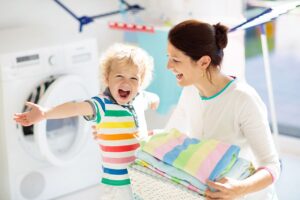 A home should feel like a place of safety and relaxation, a place to which you can return after working a long and hard day. However, considering all of the ordinary stressors that come with everyday life, homes themselves can sometimes become a source of stress. The never-ending chores that you must complete around the house (like cleaning and laundry), a long to-do list of home improvement projects that you never seem to get to, and family members who demand your constant time and attention may be constant sources of stress and anxiety while at home.
Fortunately, taking the stress out of your home is not that hard, and there are some very simple things that you can do to optimize your home for a health and stress-free lifestyle. These steps can also help to make your home a relaxing and safe place for others to visit. When your home is healthy and stress-free, it creates a better living environment for you, your family members, and your guests.
Remove Clutter From Your Home
Some people allow clutter to accumulate throughout their homes, building up significantly over time. When a home is cluttered, it can never appear clean, orderly, or efficient—there is just too much debris and clutter lying around. Moreover, allowing a significant amount of clutter to accumulate around your house can make it feel like the mess is "closing in" on you, significantly increasing your stress level unnecessarily.
Clutter has the additional potential to cause problems around the house. It can create safety hazards at home—both for your family members as well as for others who visit. For example, individuals who allow debris and clutter to accumulate around their houses are often at risk for slipping and falling. Clutter around your house also has the potential to take your attention away from activities that may be more productive.
Fortunately, there are certain small things that you can do to eliminate clutter from your home.
Easy steps to reduce clutter in your house include:
Donating items around the house that are no longer necessary – One of the best ways that you can reduce clutter around your home is to donate items that are no longer necessary or essential to you and your family. Many people have difficulty parting with items that have sentimental value. Moreover, individuals who had limited means at one point in their life may struggle to part with possessions, believing that they may not afford a replacement in the near future. In fact, hoarding possessions and allowing clutter to accumulate actually increases stress levels. By throwing away unnecessary possessions or giving them away to others, you can decrease your stress level and the anxiety that often comes with the ever-accumulating clutter. You should also throw out any broken items that you have been holding onto, and consider selling items of which you have more than one.
Declutter in parts – Trying to declutter an entire house in one day can be an overwhelming task—especially if the clutter has accumulated in your home for a significant period of time. A better approach is to declutter your home in parts or steps. For example, focus your attention only on decluttering one closet, one room, or one drawer per day. On another day, focus on a different area of the home. Continue this gradual process until there comes a time when the entire house is free from clutter and debris.
Do not replace items you have removed from your home – Cleaning out a cluttered room or other space in your home allows you to de-stress and enjoy the empty space for a while. What you should not do is make new purchases, in an attempt to replace the items that you have sold, thrown out, donated, or otherwise removed from your home. Doing so just brings the clutter problem full circle and is sure to increase your stress and anxiety levels.
Creating an Area in Your Home Solely for Relaxation
One of the best ways to de-stress and make your home more inviting and relaxing is to create a space in your home that you use solely for relaxation purposes. This should be an oasis of peace that you can escape to get away from the stresses of daily life and family. This area may be a bedroom, den, or bathroom to which you can retreat and read a good book, or do some other activity that you find relaxing.
When it comes to creating your home relaxation area, first make sure that the area does not have accumulated clutter. A cluttered area will only serve to make you more stressed and anxious. When creating your relaxation room, use cool colors, such as blues, which can help to create a mood of peace and serenity. That being said, it's your room in the end, and you should use whatever color (or color combination) works best for you.
Finally, since this is "your" room, you should ask others in your household to please respect your space. If others have to use this room or space for any reason, make it clear that the area must be left clean and free from debris and clutter as much as possible. Having a room of relaxation in your home is a great way to de-stress after a long day, and escape the pressures of work and family life—if only temporarily.
Let an Abundance of Natural Light Shine in Your Home
Studies show that letting an abundance of natural light into your home can positively affect your outlook, mental health, and mood. Natural light in your home is especially important during the current COVID-19 pandemic—a source of intense anxiety for most people. Lack of exposure to an abundance of natural light can also lead to depression.
One of the simplest ways to allow more natural light to enter your home is by opening up your curtains and blinds while you are at home, and letting the light in. It's also not a bad idea to avoid heavy materials when you purchase drapes and curtains for your home, as these materials will keep the sunlight out. One exception to this is bedroom curtains, where thick curtain material will keep the room dark, allowing you to have a peaceful and restful night's sleep or afternoon nap.
The current COVID-19 pandemic is leading many people to work almost exclusively from home. To help settle you in your new work environment is to select an already well-lit room for your home office. You may also want to position your desk in such a way that you can look out a window into the sunlight while you are working.
Develop a Routine for Completing Chores
No one particularly likes completing chores. Developing and adhering to a chore routine, however, not only decreases the chance of clutter accumulating in your home, it can also work to decrease your stress level significantly.
To develop a regular routine for completing chores:
Prioritize – When it comes to completing chores around your home, certain rooms and areas of the home should take precedence over others. For example, the kitchen and the bathroom, which family members use on a daily and frequent basis, should be one of the first rooms to receive your attention. By prioritizing specific areas of the home over others, you will be more likely to complete your chores efficiently.
Ask for help – Assigning various chores to family members and other residents of your home can spread out the burden of work and prevent one individual from having to take on the entire workload. It may also be beneficial to rotate chores regularly, so that one person is not always stuck with doing the same chore day in and day out. Family members could also share certain chores, so that the household work can get done that much faster. Additionally, all of this cooperation helps to foster a healthy family dynamic.
Set Expectations for Yourself and Your Family Members
Not everyone is wired in exactly the same way. While some individuals find organization extremely easy, others find it to be much more of a challenge. These latter types of individuals are oftentimes very creative, but their creativity may produce a substantial amount of clutter in the process.
When setting expectations with yourself and your family members regarding your home, do the following:
Be patient with your spouse and your children, since making significant changes to habits and routines—especially concerning household maintenance and cleaning—often takes time.
Be patient with children with ADD or ADHD, as they may find it takes more effort to organize and handle several large tasks at the same time.
Be aware of schedules, since it can be difficult to complete household chores and other tasks while many other activities are going on. This is especially true for young children.
Understand that not everything around the house can be done at once, and that chores and tasks take time to complete. When it comes to optimizing your home, patience is always a virtue.
Take Time to Space Out
We live in a technological age of smartphones, tablets, and other electronic devices in use almost 24/7. One of the best things that you can do to de-stress at home is to set several hours of the day aside as tech-free. During this time, you should not be using your electronic devices to make calls, engage in text messaging, or check social media accounts. Instead, you should be using this time to interact with family members and friends, and catch-up with one another on your day-to-day lives.
Although some stresses from your job are likely to follow you home, constantly using technology throughout the day—even after work—can significantly increase your stress level at home and even make it difficult to sleep. Taking time away from your tech devices for a period of time each day can be a great help as you de-stress and reconnect with your family members at home. It can also aid in creating a recognizable separation between your work life and your home life with loved ones.
Use Decorations Around Your Home That Enable You to Rest and Relax
Another important way to de-stress around your home is to add both indoor and outdoor home decorations that foster a sense of relaxation. This can come in the form of water features, like a small fountain, or a fire pit. When you have these types of decorations inside and outside your home, it can make your house feel more like a home and encourage relaxation and tranquility.
In terms of outdoor space, consider beginning a landscaping project or constructing a deck in the backyard that will allow you to relax outside in the midst of nature.
If you do install a feature like a fireplace or a fire pit inside or outside your home, make sure that these devices come with the appropriate safety features that will allow you to enjoy them—worry-free—for many years to come. Unsafe devices only create worry for you, your loved ones, and visitors who come to your home.
Make Your Home a Place of Peace and Relaxation
In a world where we must deal with so many unpleasant things, you should make your home a refuge of comfort and relaxation. By taking these steps to declutter and organize your living space, developing a routine for completing chores, and setting realistic expectations, you can transform your home into an oasis of peace that allows you to escape from the stresses of everyday life.
---
Brauns Law, P.C.
3175 Satellite Boulevard, Bldg 600
Suite 330
Duluth, GA 30096
(404) 205-8614