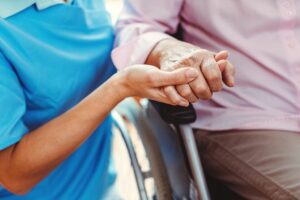 Abusive or negligent administrators, staff, and social workers from nursing homes are often adept at explaining away signs of abuse and convincing families to ignore their loved-ones pleas and complaints. Confronting nursing staff about potential abuse does not usually protect an elderly or injured family member. Instead, the confrontation may result in the altering of medical records and other steps to hide evidence of abuse and neglect.
Attorneys recommend connecting with community advocates, independent medical professionals, and nursing home malpractice counsel if a family member suspects the medical neglect or sexual, physical, and physiological abuse of a loved one at an extended care facility.
Different Kinds of Nursing Home Abuse and Negligent
Medical neglect and abuse often occur together and may involve a failure to adequately address a resident's health needs or intentional conduct causing direct harm. Healthcare neglect may include medical malpractice, premises liability, and general negligence claims. Nursing home abuse might involve healthcare negligence, but it typically triggers additional civil claims for battery (physical assault or harmful touching), sexual battery, and intentional infliction of emotional distress. Abuse allegations may also lead to criminal charges or healthcare fraud investigations.
Common Signs of Medical Neglect in Long-Term Care Facilities
Understaffed rehabilitation facilities sometimes fall short of accepted medical guidelines, especially as they cope with COVID-19. While residents and their families might recover damages for medical malpractice in such cases, there is a significant difference between an honest mistake and systemic healthcare neglect, gross medical incompetence, financial fraud, and intentional abuse. If you've noticed unexplained injuries or an overall decline in your loved one's physical and emotional health, look for the following signs of abuse.
An aging loved one often chooses long-term care when families cannot meet their medical needs. Nursing facilities charge thousands of dollars to provide specialized healthcare services each month, including monitoring food intake, administering medications, providing physical therapy, and ensuring the resident's physical comfort.
Typical signs in your loved one that a nursing home medically neglected them include:
Complains that staff ignores requests for food, water, medication, or care
Chapped lips and other signs of dehydration
Weight loss
Stained sheets, clothes, and unsanitary conditions
Denial of medical equipment
Rapidly worsening physical or emotional condition
Moaning, yelling, and trouble breathing
Tossing, turning, and signs of discomfort
Unexplained broken hips, bones, and hospital transfers
If you suspect inadequate medical care caused a resident's declining health, document your concerns with photographs, videos, and resident testimonials. Instead of washing them, save stained laundry and sheets before speaking with counsel, as these items may provide additional evidence of abuse and neglect. Nursing staff must document every visit to a resident, medical request, complaint, vitals, and nutritional intake daily.
Consider finding creative ways to request a loved one's complete nursing home medical records and related documentation to avoid your suspicions' alerting staff. An attorney may help you retain an independent medical malpractice expert to review the paperwork for deficiencies and signs of professional malpractice.
Looking for Specific Types of Abuse in Residential Care Homes
Families should consider looking for a combination of the following signs, which potentially indicate nursing home abuse and neglect.
Physical Abuse
Home videos have captured healthcare workers, nursing aides, and other caretakers physically abusing or mishandling elderly residents. A civil tort called battery covers unwanted or harmful physical contact, such as assault. Shoving, grabbing, restraining, scratching, or slapping a resident qualifies as physical abuse.
Look for the following physical signs indicative of systemic abuse:
Bruising, particularly bruises in different stages of healing
Scratches, scabs, cuts, and blood on sheets or clothing
Broken bones
Emotional withdrawal
Burns and scalding injuries
No medical equipment or functioning emergency devices
Direct reports from residents that an aid hurt them
Anxiety and worsening medical conditions
Rocking back and forth
Defensive wounds on arms and hidden bruises
Nursing homes frequently explain bruising, restraining injuries, and defensive wounds as the result of protecting a resident or administering medication. However, touching residents without permission often constitutes battery. Families can struggle to distinguish between injuries sustained by necessary medical intervention and those indicative of physical abuse.
One way of telling the difference is determining whether the facility contacted you about an injury or concerning the incident, or wrote an injury report. Most reputable nursing homes will inform resident contacts about events resulting in physical trauma, record the episode in medical records, and immediately provide treatment for the injuries.
Legal professionals recommend taking photographs of injuries and requesting an independent doctor trained to recognize elder abuse to examine the resident if a battery is suspected.
Psychological and Emotional Abuse
Some healthcare workers should not have authority over weak and vulnerable residents. Workers may scream at loved ones suffering from dementia, embarrass residents for incontinence, or otherwise demean them for their race, religion, or military service. Do not discount the significant impact of emotional trauma on a resident's physical health. The most common psychological abuse signs in long-term care residents include social withdrawal, personality changes, and direct reports from the resident.
Caretakers should consider listening for disparaging comments from healthcare workers about other residents to confirm their suspicions. Emotional abuse frequently turns into or accompanies assault and medical neglect.
Sexual Abuse
Federal and state authorities receive thousands of direct complaints about sexual abuse at long-term care facilities each year. However, the majority of sexual incidents at nursing homes likely go unreported.
From harassment to rape, families should be aware of the possibility of sexual abuse at care homes, and look for the following signs of sexual trauma:
Direct reports from the resident and staff
Statements or actions indicating the resident fears certain healthcare workers
Depression and emotional withdrawal
Rectal or uterine bleeding
Bruising and trauma to the breasts and sexual organs
These signs might overlap with residents' medical conditions, such as incontinence, bowel issues, and dementia. Older women are especially susceptible to sexual violence in care homes, and private caregivers should always monitor their loved ones for this type of trauma.
Confronting Nursing Home Staff about Suspected Abuse and Negligent
Families naturally want to confront nurses and caretakers about unexplained bruising and concerning resident reports. They may wish to discuss their loved ones' nutrition, prognosis, and speak with management. While this might result in temporarily improved resident conditions, staff could respond by increasing their attempts to cover up signs of abuse or neglect. However, the resident's health and safety come first, even if it means tipping staff off about a potential investigation.
If you believe a loved one is suffering from abuse or gross medical neglect, consider contacting law enforcement, adult protective services, or a local nursing home abuse and neglect lawyer before confronting the caretakers.
Without third-party intervention, abusive or neglectful nursing staff may derail or take control of the investigative process. Corrupt administrators may hide evidence if a confrontation only takes place with the internal staff. If you're unsure about filing a police report, a nursing home neglect attorney can provide advice and insight. Local medical malpractice lawyers are frequently familiar with the reputations of long-term care facilities in the area and might review the evidence in your case.
Gathering Evidence to Confirm Nursing Home Abuse Suspicions
Neglect and abuse at long-term care facilities frequently go unnoticed when the signs are similar to a resident's pre-existing health conditions. A dementia resident may report being attacked by a nurse when they were only undergoing physical therapy. Similarly, elderly residents with failing health may rapidly lose weight regardless of nutritional care. When families notice potential signs of neglect but also understand the seriousness of their loved ones' pre-existing condition, they should search for the truth.
Legal professionals recommend taking pictures of all areas of concern and gathering video evidence as appropriate. Families might also photograph, bag, and save stained and soiled bedding and clothing and take pictures of unsanitary or unsafe conditions.
Families should also assume that, if abuse and neglect are taking place, other long-term residents likely suffer from the same treatment. You might contact the state licensing agency responsible for the care home to request evidence of past abuse claims or confidentially discuss your case with adult protective services.
Because personal injury law includes healthcare neglect, medical malpractice, slip and falls, and civil abuse claims, a local injury lawyer might also help families request medical records and connect with investigators without alerting nursing staff.
A legal professional might also review state law and, if permissible, recommend placing hidden cameras in a family member's room. You might also quietly take the resident to an independent doctor, particularly an experienced geriatrician, for an abuse and health examination.
Holding Care Homes Accountable for Medical Neglect and Abuse
Residents and their families might recover civil damages for unlawful conduct at nursing homes even if the neglectful actions were not criminal. Multiple legal claims may exist in nursing home abuse cases, and attorneys may bring all qualifying claims into one lawsuit. Consider the following common legal actions used in these cases.
Medical Malpractice and Medical Neglect
Most nursing homes act as licensed healthcare providers. Additionally, doctors, physical therapists, psychologists, and registered nurses must provide care according to established medical standards. If a licensed healthcare provider fails to render proper care, and this failure results in harm, the resident might sue for medical malpractice.
Families could hold the facility directly liable for neglect or hold them accountable for abusive employees. Medical malpractice might also encompass caregiver abuse claims if a licensed medical professional physically or sexually assaulted the resident.
Negligence
This broad tort covers claims that careless conduct caused the resident compensable harm, such as injury or illness.
Examples of negligence include:
A resident slipping and falling
The lack of oversight over the staff
A resident rolling out of bed
Forgetting about a resident's allergies
Failing to feed or hydrate a resident
Allowing poor hygiene in residents and unsanitary living conditions
Nursing home abuse lawsuits typically contain negligence claims to cover staff, such as nursing assistants, administrators, and general caretakers, without the licenses necessary to trigger malpractice litigation.
Battery and Sexual Battery
These claims cover any intentional and non-consensual touching. Most forms of battery also carry parallel criminal penalties. For example, the resident may request civil damages for rape by filing a sexual battery lawsuit and testify in a rape trial. In a medical caregiver context, residents must consent to contact necessary for their safety, health, and well-being. This consent does not extend to intentionally inflicted physical or sexual injuries.
Furthermore, residents of sound mind may typically withdraw any previously given consent—even written permission—if they object to the touching. Touching includes direct physical contact or harm caused through an item, i.e., forcefully grabbing a cup from the resident or harming a resident with a medical device.
Intentional Inflection of Emotional Distress
In most states, this tort covers psychological abuse claims. The nursing staff's conduct must involve certain threatening or outrageous statements likely to cause severe emotional distress. Disparaging, threatening, or otherwise harassing vulnerable nursing home residents might qualify if the comments cause personality changes or a decline in a resident's health.
Breach of Contract
Residents or their legal guardians must consent to nursing care in writing. Most long-term residential facilities request residents to sign an admission contract setting forth the scope of care and services offered. Even if a nursing home's conduct is not otherwise unlawful, it might violate the resident care agreement.
Financial Compensation Potentially Available to Abuse and Neglected Nursing Home Residents
Claimants may request financial compensation directly from a care home's insurer for any losses suffered from the abuse or neglect. These damages frequently include the costs of additional medical bills, medical transportation, or even extra fees from transferring to a new facility. Residents might also request punitive damages to punish individual abusers for egregious sexual abuse and physical assault.
To take action for your loved one's protection, consider confirming your suspicions without tipping off the staff. A local nursing home firm might review your case's facts and agree to assist you without any upfront or out-of-pocket costs. Do not ignore signs of abuse and neglect at nursing homes. To learn more about your legal options, contact Brauns Law, PC.