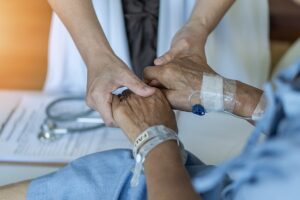 Most long-term residential facilities only keep one or two full-time physicians on staff. Doctors may make weekly rounds, prescribe new medications, and conduct superficial patient examinations as needed. Physicians rely on nursing staff to monitor patients for signs of abuse, respond to patients' medical needs, and use their training to summon doctors as needed. For this reason, predatory caretakers often get away with physically abusing patients over an extended period of time.
Families should immediately contact medical and legal professionals upon noticing potential signs of abuse. Further, investigators and insurers typically request a licensed physician identify physical abuse signs before opening a case. A doctor's initial abuse report often forms the basis for medical malpractice and assault litigation against long-term care facilities in the United States.
Looking for Signs of Physical Abuse at Nursing Homes
Over the past decade, reporters highlighted the plight of nursing home residents suffering from hidden physical and sexual abuse. Adult protective agencies and local regulatory authorities frequently ask family members to vigilantly monitor their loved ones for abuse indicators and report suspicions to law enforcement.
However, physical abuse signs at residential care homes often overlap with patients' pre-existing medical conditions or side effects from common medications. Bruising might indicate physical abuse and harsh treatment at nursing homes, but some of the most common medications taken by elderly Americans also cause bruising and under-skin bleeding. Blood thinners, aspirin, steroids, and chemotherapy drugs all have side effects that could mimic abuse.
Do not ignore these conditions, however, or let nursing staff excuse the injuries. Look for the following additional signs and symptoms of physical abuse:
Self-reports of abuse from victims and roommates
Broken eyeglasses, phones, and other personal items
Staff refusal to allow patients time alone with family members or advocates
Restraining or defensive injuries, such as bruising around the wrist area
Cuts and scrapes
Bruises and scars in different areas
Emotional withdrawal and depression
Extreme personality changes
Anxiety or fear around staff members
Even when the nursing staff gives families medical explanations for the patient's injuries or condition, consider whether the patient suffered from similar issues before seeking long-term care. Residents should receive dedicated healthcare at nursing facilities, which reduces the risk of injury. In fact, patients and families often seek advanced nursing care for this reason. Independent doctors may review the patient's medical records, prescription drugs, and injuries during a private abuse and neglect examination.
Why Families Should Call Independent Doctors and Abuse Advocates Before Confronting Nursing Staff
When families see signs of physical abuse at long-term care facilities, the nursing staff, treating doctors, and the care home may share liability for your loved one's injuries. Even if the patient's treating doctor did not see the bruising, they might bear legal responsibility for failing to monitor and provide for the patient's care. This carelessness could support a claim for medical malpractice or negligence.
Nursing homes must ensure patient safety, and so they also bear the blame for their employees' unlawful actions. Because of this obligation, facility staff may quickly explain away your loved one's injuries and alter medical records to avoid vicarious liability.
Consider calling a local nursing home attorney, adult protective services, or elder abuse advocacy organization before tipping off staff about your suspicions. These professionals may refer families to trusted independent physicians for an abuse and neglect examination, and explain your rights if nursing homes refuse to admit the doctor or release patients for an exam.
Do not use a doctor or other medical professional when a conflict of interest could exist. Legal conflicts might even arise if your loved one's primary care doctor should have noticed the abuse but failed to do so. A medical neglect attorney might help patients find independent doctors with experience identifying signs of abuse and medical neglect. Some nurses and other licensed healthcare professionals even have specialized training and certifications in these areas.
Understanding Your Rights to Remove Loved Ones from a Nursing Facility
Families often wish to take loved ones outside the nursing facility for a visit to an independent doctor. If you receive substantial opposition to such removal or examination, this often indicates that the facility is aware of ongoing abuse and neglect and does not wish its discovery. Nursing facilities may not hold patients against their will. Residents or their legal guardians typically have the right to make independent decisions, including leaving the premises for medical examinations and refusing to return after abusive conduct.
A lawyer may help families prepare and file any legal documentation necessary before temporarily or permanently removing a loved one from the care facility. Some nursing homes also have specific protocols families must follow before taking medically vulnerable patients off the premises. If possible, loved ones should follow these procedures to avoid a nursing home's attempt to shift liability to family members. Consider speaking with a local estate and trust lawyer about transferring or executing medical guardianship documentation for loved ones receiving long-term, in-patient care.
These documents might include:
An attorney or elder abuse advocate might also help families secure necessary medical transportation or, if necessary, bring an independent doctor into the care home to perform a private exam.
Taking Immediate Action If Doctors Suspect Physical Abuse
Licensed physicians may generally act as medical experts during malpractice and related nursing home litigation. Doctors may examine the patient for signs of abuse and render a legally admissible opinion about the situation. For example, an independent doctor might write a report detailing their abuse and neglect examination, and conclude that they suspect the patient suffers from unnecessary rough handling, unlawful physical restraint, or actual assault from nursing staff or fellow residents.
Courts may use this opinion as direct evidence of abuse, which often shifts the burden onto the alleged abuser or facility to contradict the doctor's statement. For this reason, consider working with a local attorney to select the right doctor to perform an abuse and neglect examination.
Physicians should look at the patient's medical history, medications, and testimony during physical abuse examinations. Doctors should then conduct full physical examinations and take detailed notes. The doctor may agree with your suspicions and conclude the patient most likely received physical abuse, but they might discover signs of medical neglect as well. These conclusions often shock family members and leave them wondering how to proceed. At this stage, it's time to contact a local law firm with experience handling medical neglect and abuse cases.
Nursing home lawyers do not generally charge any consultation fees and accept viable nursing home abuse cases on a contingency fee basis. An attorney may quickly inform nursing homes that the patient has legal representation and help families take action to protect the patient and recover financial compensation.
Reporting Nursing Home Abuse Claims to Law Enforcement and Insurers
Every state criminalizes physical abuse and assault. Many jurisdictions also impose harsher penalties when predators victimize vulnerable adults. If a doctor confirms or indicates that abuse and neglect occurred, families should file a police report, contact adult protective services, and lodge an official complaint with the appropriate medical licensing board. Taking action could protect your loved one and reveal systemic abuse, as well as protect other vulnerable adults without strong family advocates.
Patients should also consider reporting potential abuse and neglect to their private health insurers, typically Medicare, Medicaid, or Medicare supplements. The state or federal government could open a healthcare fraud investigation if insurers paid for treatment necessitated by abuse and hidden by nursing facilities. A local legal advocate may file these claims on your loved one's behalf. When multiple parties pressure nursing homes, facilities often have difficulty hiding evidence and may offer patients a substantial financial settlement.
Filing Civil Litigation to Recover Compensation for Physical Abuse and Neglect in Long-Term Care Facilities
After taking action necessary to protect your loved one (contacting police, requesting a restraining order against the abuser, or transferring the resident to a new facility), claimants might file a civil lawsuit against liable parties.
Such parties may include:
Treating doctors
Nursing supervisors
Negligent nurses and nursing aids
The abuser
The nursing facility
The parent company controlling the nursing facility
An attorney may help families bring any or all of the following claims against liable parties to recover needed compensation for claimants.
Battery (Civil Assault)
Civil battery claims often coincide with criminal assault cases. Battery lawsuits cover allegations that an individual unlawfully touched a patient and caused harm. Examples of battery include handling a patient too roughly, unlawfully restraining a patient, slapping, pushing, shoving, or physically abusing a nursing home resident. Battery might also include sexual battery claims, but most states allow separate sexual assault lawsuits.
Medical Malpractice
Licensed nurses, doctors, and care facilities must treat patients according to accepted health standards. If a licensed healthcare professional injured a patient or the facility failed to acknowledge clear signs of abuse, attorneys might file a medical malpractice claim. Most facilities have substantial medical negligence insurance policies, and insurers may review the evidence and offer claimants a financial settlement before engaging in litigation.
Negligence
General negligence claims cover allegations that the nursing staff did not adequately protect a patient from abuse or carelessly caused the patient injuries. Negligence might also cover accusations that the facility failed to perform background checks on employees, investigate reported abuse, or abide by required health and safety standards. If physical abuse occurred while your loved one was under a nursing facility's care, this generally supports a negligence claim.
Breach of Contract
Care homes must provide specialized care to patients in the admission's contract. These contracts may contain provisions requiring the nursing home to protect and ensure confused and vulnerable patients' safety. They might even include periodic abuse and physical examination requirements. Lawyers might file a breach of contract claim with abuse and neglect litigation if nursing administrators violated the agreement's terms or established patient policies.
Abuse
Some states have specific civil claims covering physical and sexual abuse cases. Claimants may generally file civil or elder abuse litigation when the physical harm persisted over a period of time. Attorneys may begin lawsuits with evidence related to one instance of physical abuse and, if necessary, amend the case to include systemic abuse claims based on the evidence.
Wrongful Death
If the physical abuse caused or contributed to your loved one's death, estate representatives and families might recover damages on the victim's behalf. Attorneys could argue that the physical abuse worsened the patient's mental health and resulted in medical decline and early death. Families might make wrongful death claims if personal injuries or medical malpractice reasonably contributed to the patient's eventual passing.
Damages Potentially Recoverable by Victims of Physical Abuse in Nursing Homes
Unlike negligence, physical abuse involves intentional (and often criminal) conduct. Victims of nursing home abuse or their families might recover financial compensation for any past and future losses stemming from the unlawful conduct.
These damages often include reimbursement for:
Additional medical bills
Physical pain
Mental anguish
Physiological trauma
Facility transfer costs
Lost enjoyment of life
Inability to perform daily activities
An attorney might also request punitive damages directly from the abuser in these cases. Physical abuse of vulnerable nursing home residents, especially those relying on abusers for their care, involves shocking conduct. Such conduct often supports punitive financial awards designed to punish offenders for this egregious conduct.
The Importance of Connecting With Dedicated Legal Advocates and Experienced Independent Doctors if You Suspect Nursing Home Abuse
Anytime a case involves the unlawful conduct of licensed medical professionals at nursing facilities, doctors must generally testify about the patient's physical condition and poor treatment. Taking a loved one to a trusted doctor is the first step in uncovering this injustice and distinguishing abuse from natural medical decline. A local nursing home abuse attorney may help families locate trusted physicians, prepare the proper guardianship paperwork, and protect loved ones from continued physical, emotional, and sexual abuse at a nursing facility. Contact Brauns Law, PC to get the legal help you deserve.