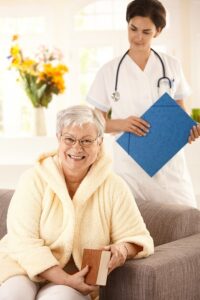 When your family member is in a nursing home, they have certain rights to information. Since they are not always in a condition to exercise their legal rights, you can act on their behalf as their representative, meaning that the nursing home must provide it to you (almost always free of charge).
Nursing homes have an obligation to protect the personal and medical information of their residents. The Health Insurance Portability and Accountability Act (HIPAA) applies to seniors who live in nursing homes, and nursing homes can face fines and penalties if they break those rules. However, family members have a right to receive certain information about their loved ones, assuming that they follow HIPAA.
Nursing Homes Do Not Always Give You the Required Information
Some skilled nursing facilities try to keep and withhold information from residents' families. They are more concerned with protecting themselves from legal liability. The more that families know about substandard care, the better prepared they will be to file a lawsuit that will cost the nursing home money. Accordingly, they are trying to prevent families from learning about their loved ones. They simply do not want others to know about what they are or are not doing when caring for residents.
Your legal right to certain information comes from your status as your loved one's representative. If you are not the designated representative, the nursing home does not have to provide information and often cannot do so. The senior would need to appoint you as their representative. Often, this appointment happens through a power-of-attorney agreement.
The Nursing Home Must Give You Access to Medical Records
You have the right under federal law to access medical care records, but they are not always free.
Your loved one's medical records are perhaps the most critical thing that you can access. They are the record of the care that your family member received. Not only do they inform you of what is going on, but they are vital if you need to prove that the nursing home was negligent.
States have laws that dictate how nursing homes must provide medical records to families that ask for them. However, nursing homes may still make it hard for families, notwithstanding their legal obligations.
You should know that while nursing homes must provide you with medical records, they are not always free. Some nursing homes may provide you with this information free of charge, but they are not legally obligated to do so.
Many states allow nursing homes to charge families to copy medical records on a per-page basis. Often, nursing homes will take advantage of this law and collect money for copying fees. Accordingly, while nursing homes have to give you the medical records, you may have to pay for the paper copies. However, if you receive electronic copies of the records, you will need to pay for the reasonable costs of production.
You Must Receive the Care Plan and Any Updates
Nursing homes are legally obligated to prepare a care plan for every resident that moves into their facility.
Such a care plan will involve:
A health assessment that must be complete within 14 days of the admission date
Follow-up assessments every 90 days after the initial health assessment. If the senior's care changes, the facility must conduct evaluations more frequently.
Ongoing and regular assessments to see if the resident's condition has changed
All of the above results in a care plan for the resident that the nursing home must follow and that encompasses all medical care and daily activities. Families must receive the care plan because they have the legal right to participate in its development. Nursing homes must provide families with information about care plan meetings so families can effectively participate.
You should not even need to ask for the care plan from the nursing home because it is their obligation to give it to you. Nonetheless, if you ask, the nursing home must provide the care plan and updates to it as necessary.
You Must Be Given Information That Allows You to Participate in Care Decisions
Along with the care plan, federal regulations require that you receive information about the actual care and treatment that, in turn, allows you to participate in planning and implementing care.
Your and your loved one's rights are set out in 42 CFR 483.10. Specifically, your family member must get information about their own treatment, so they can participate in the care. In many cases, your loved one cannot understand the treatment and participate in the decisions.
Your loved one's limited perspective and understanding are why you need to serve as a representative for them and their needs. The law does not distinguish between the resident and their representative when it requires the facility to give information. You also have the right to request information the same way as your loved one does.
Financial Records Must Be Available to the Representative
Another right to information that families often do not know about is the requirement that the nursing home has to make every individual's financial record available to them. The nursing home must provide the record every 90 days.
Each resident has an account with the nursing home. In addition, some residents will entrust their own money to the nursing home. When the nursing home has possession of their residents' money, they must keep it under very strict rules.
As the representative for your family member, you have the right to receive these statements completely free of charge. It is what the nursing home must do to ensure that you can monitor your loved one's finances. Not only must the nursing home provide these records to you quarterly, but they also must make them available to you upon request.
Your Loved One's Legal Rights
Federal rules specify a lot of information that the nursing home must give the resident about their legal rights. In addition, they must give the family information about legal rights. Specifically, you must receive—for free—information about the ombudsman and where you can file a complaint if you feel that the nursing home is not following legal requirements. You should also consult with a nursing home neglect and abuse attorney about this process.
Changes in Your Loved One's Conditions and Any Accidents
The most important thing that the nursing home must give you for free is information about your family member. They legally owe you updates on the resident's condition if you are the resident's representative.
Nursing homes are also under a legal obligation to update family members when something has happened to their loved one in the facility. For example, facilities must tell family members if their loved one had an accident or fell. Moreover, the facility must also tell you if they have discovered nursing home abuse of your loved one. The reality is that nursing homes may try to cover up this information, especially when a fall or other incident was the result of neglect.
Skilled nursing facilities must also tell families about any changes in their loved one's conditions. You should certainly have your phone calls returned when you have questions about your loved one's health. Often, families only find out after the fact that the nursing home has not informed them of a fall or a change in condition, and they only learn this important information after looking at the medical records.
If you believe that a nursing home withheld information about your loved one's suspected mistreatment, speak with a nursing home abuse and neglect lawyer immediately.
Why You Need Records and Care Plans
Nursing home care should be a collaborative process, meaning that the facility must work with the families to make the appropriate decisions. However, families cannot exercise their legal right to participate in their loved one's care if they do not have access to all the necessary records.
Not only do families have a right to be a part of major care decisions, but they may also want to generally inform themselves of how their loved one is doing. Staying abreast of their loved one's situation is even more important during restricted access to the facility.
Further, you will need access to records if your loved one has been injured by substandard care in a nursing home.
The data that you have will lay the foundation for your nursing home lawsuit and can help in cases of:
Medical malpractice
Failure to supervise the resident
Physical, financial, and sexual abuse
The first thing that your nursing home attorney will ask for is the medical records and any other information that you have received from the nursing home. While the nursing home may try to make it difficult for you to obtain the records, especially if they think that a lawsuit is coming, they will eventually need to give you what you need. Your lawyer will then review the records that you provide as the guide for the lawsuit complaint that they will draft.
Of course, you need some information continuously so you can exercise your legal rights when your loved one is in a nursing home. This information will help you better monitor any situation with your family members as it is occurring. If you are the designated representative, the nursing home cannot legally keep you in the dark.
How Medical Records Help in Lawsuits
The medical and care records will be one of the key pieces of evidence if you file a nursing home lawsuit. The court will want to see how the nursing home cared or did not care for the resident. Many medical problems will usually happen only due to abuse and neglect, so it is critical to document all of these health issues.
Medical records are documents from the time that the alleged negligence was happening, so they will be given some weight by the court. Thus, you and your family must get records sooner rather than later.
What You Can Do If the Nursing Home Is Not Providing You With Information
In all cases, the nursing home has a legal obligation to provide you with the record. If they do not, they are breaking the law. Get help if the nursing home does not provide what you need.
You can try to work with the ombudsman to gain access to records, often employing a conflict resolution measure that gives voice to family members' concerns. Usually, you take such steps when you are not receiving things like care plans and financial statements.
If nursing home neglect occurred or is currently happening, you are best off pushing the matter through an attorney. The nursing home is likely in damage control mode, trying to shield itself from liability. Act through a legal representative if they are not making the records available to you.
Of course, you can also file a complaint with the state agency that regulates the nursing home. They may investigate the nursing home's failure to give you the required information and could fine the facility if they broke the law.
How a Nursing Home Attorney Can Help You
Presumably, you are reading this piece because you wonder whether you should file a lawsuit against a nursing home. Some families do not even know what records they need after they discover that their loved one was neglected or abused at a nursing home. Accordingly, they wonder what they should even ask for in the wake of an injury to a loved one. The nursing home is certainly not going to offer any information that would make a lawsuit against them easier.
A nursing home injury attorney can help you and your family get started on a possible claim, tell you what documentation to request from the nursing home, and fight to ensure you get it.