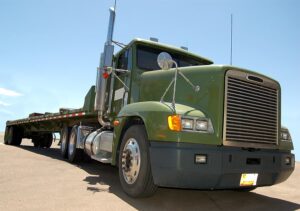 Sometimes flatbed shipping provides the only viable option for transporting oversized or unique cargo through a state or across the country. Flatbed trucks often have loads that hang over the flatbed's edge and obstruct drivers in other lanes. Flatbed trucks also provide limited spatial restrictions on cargo, allowing for easier shipping of logs, construction materials, motor vehicles, and modular homes.
Despite the numerous federal and state safety regulations regarding the transportation of cargo on flatbed trucks, the "clip and go" ease of stepdeck shipping can lead to carelessly secured freight and unintentional legal violations.
Flatbed trucks pose many of the same dangers to motorists as tractor-trailers, but these open-trailer vehicles also present their own unique risks to other motor vehicles on the road. If you or a loved one received disabling injuries due to the negligent operation, maintenance, or loading procedures associated with lowboy, stepdeck, or standard flatbed trucks, consider discussing your case with a local flatbed truck accident lawyer.
Frequent Motor Vehicle Crashes Caused by Flatbed Trucks
Large trucks, especially those carrying oversized and bulky cargo, have limited transportation route options. Most flatbed vehicles must travel on busy multi-lane highways due to weight-restricted bridges, underpasses, and lane limitations. These restrictions mean even minor cargo losses could result in fatal chain-reaction crashes. Negligent flatbed truck drivers, owners, and cargo loaders often cause or contribute to the following types of motor vehicle accidents.
Oversized Load and Lane Obstruction Accidents
Loads exceeding legal width and weight limitations are oversized, which means specific safety regulations are applied. An oversized load exceeds a width of 8.5 feet, a height of 8.5 feet, or a weight of 23 tons. A truck driver needs specialized permits to transport oversized loads. However, they may not request these permits they can safely break down the cargo into smaller components.
In addition to obtaining permission, the entity or driver responsible for transporting oversized cargo may need to:
Place signs on the back and front of the flatbed trailer indicating an oversized or overweight load
Include warning signs informing drivers that the load exceeds one-lane barriers
Place specialized lights and flags on the flatbed to warn drivers about the potential danger
Hire pilot vehicles to operate in the front or back of the truck (or both) to guide the vehicle, monitor the cargo, and warn other drivers
Travel at a legally reduced rate of speed
Make periodic stops to check tire treads and ensure cargo security
Transporting oversized loads can get expensive, which is why some trucking companies cut corners. Hiring safety vehicles and flaggers over long distances often means paying extra labor, hotel, and food costs. Shippers may mislead authorities about the cargo's weight, force truck drivers to take minimal safety breaks to reduce delivery time, or choose not to retain the necessary pilot vehicles.
Such illegal activity creates a great deal of danger to other vehicles traveling near a flatbed truck. Without essential warnings and protections, other drivers may have difficulty determining if a flatbed cargo exceeds lane boundaries. Drivers might hit the shipment, need to execute emergency lane changes, or find themselves run off the road. Poorly secured freight might tip over, fall into another lane, or result in truck tire blowouts and subsequent loss of control accidents.
Numerous regulations control oversized loads on stepdeck and other flatbed trucks because accidents resulting from safety violations often result in disabling injuries. Truck accident lawyers commonly hire private investigators to gather evidence surrounding the accident and review the crash for safety violations.
Overloading and Weight Distribution Crashes
Flatbed trucks often carry overweight or unevenly distributed cargo. Unlike traditional eighteen-wheelers, flatbeds do not have vertical space limitations. This openness makes it easier to stack cargo without regard to the truck's actual power and weight limits. Securing too much weight to one side of the flatbed trailer or transporting cargo without accounting for changes to its center-of-gravity may overturn the vehicle.
Overturned flatbeds typically mean loose cargo on the roadway. Additionally, flatbed trucks may fall out of sync with an attached tractor, resulting in jackknifing. Wet conditions and uneven weight distribution combined with sudden braking may throw the entire vehicle off balance, causing it to careen into nearby motorists.
Lost and Unsecured Flatbed Cargo Accidents
Open-trailer truck accidents commonly result from inadequately secured cargo. Drivers must secure most items to the flatbed using industrial-strength straps, chains, or tarps. Safety regulations necessitate periodic strap inspections and mandate specific minimum cargo security guidelines. If trucking companies use the right types of chains and straps, it greatly reduces the chance of the unintentional releasing of cargo.
Over tightening straps, using inadequate chains, or failing to replace worn safety equipment may result in lost cargo. Flying debris could smash windshields, obstruct the roadway, and ultimately cause serious chain-reaction crashes, even without the truck directly impacting another motor vehicle.
Rear-End Crashes and Brake Failures
It takes a lot to stop a 20-ton vehicle. As such, most large flatbed trucks require expensive airbrake systems designed to handle heavy loads. According to the Federal Motor Carrier Safety Administration (FMCSA), brake problems were the leading mechanical cause of large truck accidents over the past decade. Braking failures might result in rear-end collisions taking place when the flatbed truck cannot stop in time. Truck driver distraction and mechanical issues often cause rear-end crashes as well.
Driver Negligence Leading to Flatbed Truck Crashes
While many open-trailer accidents result from improperly secured cargo, the FMCSA reports that subpar driver performance, including carelessness or driving mistakes, causes the majority of flatbed truck collisions. Personal injury attorneys frequently look for a combination of regulatory shortfalls and truck driver negligence when determining the cause of commercial motor vehicle crashes.
The most commonly cited driver-related reasons for flatbed truck accidents include:
Truck driver fatigue due to hourly driving limit violations
Traveling too fast for conditions and weight limits
Confusion about roadways
Distraction
Driver illness
Failure to survey the area for potential hazards
Inexperience, such as unfamiliarity with vehicle handling and blind spots
Commercial motor vehicle operators must undergo periodic drug testing and keep daily driving logs. When transporting cargo, federal regulations require drivers to limit driving hours, take mandatory rest breaks, and stop as needed to perform safety inspections. Trucking companies loathe delivery delays, poor ratings, and additional hourly expenses. Because of this, some may indirectly encourage drivers to lie on hourly service logs, speed, or otherwise ignore certain safety checks.
An attorney can help drivers injured by a flatbed truck hold both the driver and a negligent employer directly liable for injuries due to these violations.
Persons Potentially Responsible for Compensating Victims of Flatbed Truck Accidents
Car crashes involving commercial motor vehicles often trigger special liability laws involving negligent truck drivers, flatbed truck owners, or employers. The facts of the accident generally dictate which parties might bear liability for lowboy, drop deck, or standard flatbed truck collisions. The negligent driver, their employer (if any), and the truck owner (if different) would share liability if truck driver negligence caused your injuries.
After demonstrating that a truck driver operated the flatbed carelessly or recklessly, the law automatically assigns responsibility to the vehicle owner and the driver's employer in most cases. A savvy personal injury attorney may even hold an employer directly liable if the employer cut corners during safety checks, failed to replace weakening tethers, or otherwise encouraged the driver to ignore anti-fatigue regulations.
Cargo accidents, such as overloading flatbeds and failing to secure the load correctly, may also involve third-party liability. Entities or individuals requesting flatbed cargo transportation must honestly and accurately calculate the load's weight and inform drivers of any potential safety concerns. For example, cargo owners should warn drivers if certain construction materials might dissolve and fall off the truck when wet.
Individuals securing the cargo must do so according to safety regulations, but their negligence does not generally excuse truck driver and employer liability.
Realistically, most states do not ask injured claimants to engage in this complex liability analysis. While drivers, trucking companies, brake manufacturers, and cargo owners might argue amongst themselves, most negligently injured motor vehicle occupants can recover needed compensation from the truck's commercial insurance policy.
An attorney might help injured motorists and pedestrians file a truck insurance claim if the flatbed owner maintained a valid insurance policy. If a driver or third party engaged in inexcusable safety violations, then a lawyer might go after each individual or entity potentially liable for your injuries.
Recovering Compensation From Flatbed Truck Insurers
Most flatbed truck accidents involve general negligence claims. In such cases, persons injured in truck crashes must demonstrate:
The truck driver had a duty to drive safely, including following federal and state safety regulations.
The driver failed in this duty, such as by forging hourly logs or failing to secure cargo.
This legal violation directly caused an accident.
That accident resulted in damages, including personal injuries.
The list above also applies to owners and employers.
Claiming compensation from a commercial motor vehicle insurer typically involves submitting the evidence necessary to prove the factors above. The initial proof often includes the police report, photographs, video recordings, witness statements, and medical records. An experienced personal injury attorney may gather these items on your behalf and file an appropriate claim.
Note that the majority of flatbed truck owners carry six- or seven-figure insurance policies. Most truck accident cases involve critical settlement negotiations with these high-level insurers. If the insurer blames you for the crash, minimizes the severity of your injuries, or refuses to settle, a truck accident lawyer might file personal injury litigation.
Injuries Commonly Sustained by Innocent Drivers
The value of your open-trailer accident claim commonly depends on the nature and severity of your injuries. A significant cargo loss accident might result in minor whiplash, while a slight rear-end crash could cause disabling spinal injuries. In addition to common motor vehicle accident injuries, including back pain, herniated discs, and shoulder damage, legal professionals frequently see unique injuries after flatbed truck accidents.
Swerving to avoid rolling cargo or losing control after debris cracks your windshield may result in severe medical conditions, including:
Open/penetrating traumatic brain injuries – When construction debris or other items leave the flatbed, they may puncture a driver's windshield and result in penetrating head trauma. These types of skull fractures often result in long-term disabilities or death.
Crushing injuries/internal organ damage – Whether overloaded cargo tipped onto your vehicle or caused the flatbed truck to overturn, severe crushing accidents can result from heavy, unsecured flatbed freight.
Facial fractures – Due to the weight differential between flatbed trailers and passenger vehicles, even low-speed collisions may result in airbags deploying or driver's faces striking the steering wheel, leading to facial fractures.
Blindness – Windows and windshields naturally sit at eye level. As such, shattered glass from broken windows or windshields due to cargo loss accidents may cause complete or partial blindness for other drivers and passengers.
Burns – Based on the angle of impact, large truck crashes may result in dangerous car fires. These fires often occur when the truck or cargo smashes into another vehicle's gas tank or destroys a vehicle's front-end. It's not uncommon for occupants to become trapped in a burning vehicle until emergency services arrive, resulting in third-degree burns, infections, and scarring.
Motorists, cyclists, and even pedestrians injured by a flatbed truck's negligent operation might recover for the past and future losses associated with these conditions. These damages include direct expenses, such as medical bills, ambulance costs, and vehicle destruction, as well as secondary losses stemming from the accident, such as lost income and associated health benefits.
Additionally, experienced attorneys may help claimants recover non-economic damages for any physical pain, emotional suffering, and loss of life's enjoyments. Spouses and parents of minor victims might also claim damages for undertaking additional household responsibilities, driving injured loved ones to doctor's appointments, and any lost companionship caused by a flatbed truck crash.
Connect With an Experienced Truck Accident Lawyer in Your State
Persons injured in accidents caused by a flatbed truck should consider a consultation with a dedicated trucking company liability attorney. Between high-value commercial insurance policies, federal trucking safety regulations, and complex employer-liability principles, claiming damages often requires professional assistance and expertise.
Most personal injury attorneys accept viable truck accident cases on a contingency fee basis, whereby they receive a percentage of your overall settlement or recovery. Consider contacting us to schedule a free, confidential case analysis with a local plaintiff's lawyer.