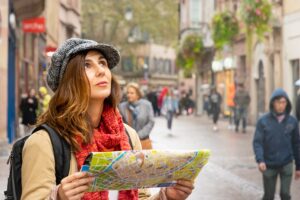 Holidays like Memorial Day, Independence Day, Labor Day, and Halloween—along with the traditional Thanksgiving, Christmas, and New Year's holidays—offer family members and friends alike the opportunity to gather together and enjoy each other's company. Because of this, travel is commonplace during the holidays. To enjoy these holidays to the fullest, there are certain steps that you should take when you travel (that are also applicable when you are just staying at home or are simply out on the town).
Given the large numbers of individuals who travel on holidays, motor vehicle collisions are common. Even drivers who safely operate their vehicles at all times are at risk of injury when others choose to operate their vehicles in a careless and unsafe manner. If you or someone you love has sustained an injury in a motor vehicle accident that occurs around a holiday, an experienced personal injury attorney in your jurisdiction can investigate your accident case and determine if you are eligible to file a personal injury case for monetary compensation. If so, your lawyer can assist you with that as well.
Holidays also see an uptick in attendance at shopping at malls, shopping centers, and stores, or just visiting others in their homes. Consequently, accidents that occur on someone else's property, such as slip and falls, may occur. If you suffer injuries in one of these types of accidents because of negligence (on the part of a premises owner, for example), you may recover monetary compensation for the injuries and damages that you suffered in your accident. Contact our Duluth accident injury lawyers at Brauns Law to answer your legal inquiries.
By keeping the following tips in mind, you decrease your chances of being involved in an accident, so that you can enjoy the holidays with your family members and friends.
The Traditional Summer Holidays—Memorial Day, Independence Day, and Labor Day
The three premier holidays that occur during the traditional summer months are Memorial Day, Independence Day, and Labor Day. These holidays provide family members with an opportunity to socialize at outdoor events like picnics and beach parties. These days can also present various dangers for travelers and locals alike. Some precautions that you should always take during the summer holidays include the following:
Being alert for drunk drivers – Over the summer holidays, many people enjoy consuming alcohol with their friends and families. However, drivers should never get behind the wheel of their car, truck, or RV while intoxicated or under the influence of drugs. Doing so creates a serious hazard for everyone else who is on the road at that time. If you are on the road, you should always be wary of individuals who appear to be driving at high rates of speed or in an erratic manner, and you should steer clear of those drivers.
Be careful with fireworks – According to the Red Cross, viewing fireworks shot by trained professionals is the safest way to enjoy special events like Independence Day. Stay a minimum of 500 feet away from any area where professionals are setting off fireworks. The private use of fireworks is illegal in some jurisdictions across the United States. However, in jurisdictions where private individuals are allowed to set off fireworks, those individuals should make sure that they keep a water supply in the vicinity and that they wear eye and hearing protection when they are setting off fireworks.
Use sunscreen – Even if you are an individual who tans easily, the sun's ultraviolet rays can still pose a serious risk. Prolonged exposure to the sun presents a significant risk of skin cancer—especially if skin cancer runs in your family. You should limit your sun exposure between 10 a.m. and 4 p.m., since that's when the sun's rays are the strongest. You should also always wear sunscreen that has an SPF level of at least 15.
Be safe in the water – No summer outing would be complete without taking a dip in a pool, lake, or ocean. However, water can present serious hazards, especially if you have young children with you. While you are in the water, you should always keep an eye out for inclement weather. Finally, you should never swim right after you eat (or after consuming an alcoholic beverage).
Be careful around grills – Summer cookouts can be fun, but it goes without saying that you should always do your grilling outside, away from your house, and away from anything that may potentially catch on fire.
Be wary of heatstroke – Heatstroke occurs when a person is exposed to the sun and heat for too long a period of time. It is especially prevalent in July and August, when the sun is at its hottest. You should be on the lookout for signs and symptoms related to heatstroke, including red skin, shallow breathing, and a weak pulse. If you believe that a loved one is suffering from heatstroke after sitting outside too long, it is best to call 9-1-1 right away and move the person to a location that is shady and cool.
Halloween Safety
Halloween is a fun holiday for parties, get-togethers, and trick-or-treating for the little ones. However, Halloween does present some dangers to young and old alike, so take caution and look after your young ones.
Some important safety tips for the Halloween season include:
Be careful when operating a motor vehicle – Trick-or-treating is common in neighborhoods with young people in the time leading up to October 31. In fact, according to Halloween statistics, children are two times more likely than adults to be the victim of a fatal accident involving a motor vehicle. Moreover, October produces the second-highest number of motor vehicle deaths. It is especially important, therefore, that motor vehicle drivers be vigilant when they are driving on roadways while trick-or-treat is taking place. Specifically, drivers should be careful when they enter and exit alleyways and driveways, and always keep an eye out for children who may be walking on medians, roadways, or curbs. Since many Halloween costumes are dark in color, motorists need to be especially vigilant for children in these locations during the evening.
Be careful when selecting a costume for a child – When it comes to picking a Halloween costume for your child, you should always keep certain safety tips in mind. For example, according to the American Academy of Pediatrics, children should use non-toxic makeup, attach glow-in-the-dark tape to bags and costumes (or carry a glow stick with them), only wear Halloween costumes that are fire-resistant, and avoid wearing masks that can obstruct vision.
Be safe when trick-or-treating – Adults and children should take steps to ensure that a Halloween trick-or-treating experience is fun and safe for everyone. For example, an adult should always accompany children while children are making their rounds throughout the neighborhood. Moreover, children should never go into the home (or motor vehicle) of a stranger, and should only walk around in areas that are familiar and well-lit. You should also tell children not to eat any candy until they arrive home—and only to accept candy that is wrapped. Finally, children should not use cellphones or other electronic devices while they are walking around the neighborhood trick-or-treating. Instead, they should be looking ahead at all times and paying attention to their surroundings.
The Winter Holiday Season
The winter holidays encompass the months from late November up until early January, and include holidays like Thanksgiving, Christmas, Hanukkah, and New Year's. These winter holidays present family and friends with a great opportunity to reconnect, to focus on what is really important in life, and to be grateful for all of their blessings.
Despite the joy of the holiday season, there are often serious potential dangers to be aware of during this festive time. The good news, however, is that there are some simple precautions that you can take to avoid the risk of harm for both you and your loved ones, and to enjoy a safe and healthy winter holiday season. Some of the most important steps that you can take include the following:
Staying warm – In many parts of the country, it is extremely cold during the holiday season, which lasts from late November through early January. Being exposed to the cold for a long period of time can result in severe health problems, most especially with older adults and young children. During this time, it is important that you dress in layers and that you stay as warm as possible. It is also a good idea to keep a blanket and a flashlight in your car at all times, in the event of a breakdown or other emergency.
Washing your hands – It goes without saying that illness prevention and hand washing go hand in hand. Washing your hands helps to prevent you from spreading germs to other people and can also prevent you from getting sick. For safety reasons, you should wash your hands using both soap and water, and you should do this for approximately 20 seconds—rubbing your fingers and hands together vigorously. If you have to cough or sneeze, always use a tissue and always throw the tissue away when you are finished.
Safe travel – Many people travel by motor vehicle during the holiday season to take a vacation or visit friends and relatives. If you are driving or riding in a motor vehicle over the holidays, wear your safety belt at all times. Never get into a vehicle with a driver whom you believe to be intoxicated or under the influence of drugs. If you have young children, make sure that you properly secure them in a child safety seat that is appropriate for their weight, height, and age. This will ensure that they remain safe in a motor vehicle accident.
Watch your stress level and manage it if it gets out of control – In addition to being a cheerful time of year, the winter holiday season can also present a lot of worry and stress for some people. If you feel that you are becoming overcome by stress, seek help from your friends and family members, and always strive to maintain a positive outlook. Get sufficient sleep as well, ideally between seven and nine hours each night.
Stay healthy – During the holiday season, keep well and seek out medical treatment if you become ill. The sooner you obtain medical treatment for an illness, the better off you will be. Also, if you are planning on traveling over the holiday season, receive the recommended vaccinations.

Take measures to prevent injuries – Finally, over the holiday season, you should take all of the necessary steps and measures to prevent injuries. For example, if you know that you are going to be skateboarding or riding a bicycle or motorcycle, you should always wear a helmet. Moreover, you should keep open flames away from children, pets, and trees (especially if the trees are dry). Never leave a stove, candle, or fireplace unattended in your home at any time.
No matter how careful people are, accidents and injuries can still occur during the summer, fall, and winter holiday seasons. If you or someone you love has sustained an injury as a result of someone else's carelessness or negligence, you may be eligible to file a personal injury claim for damages. Contact a knowledgeable attorney in your jurisdiction who can assist you in filing a claim with the at-fault person's insurance company, and pursuing a settlement. If necessary, your lawyer can file a lawsuit and pursue through litigation the monetary compensation you deserve.
---
Brauns Law, P.C.
3175 Satellite Boulevard, Bldg 600
Suite 330
Duluth, GA 30096
(404) 205-8614